Custom Outdoor Energy Recovery Unit for a Casino
This XeteX project features five large outdoor energy recovery units to help tackle this casino's ventilation challenges.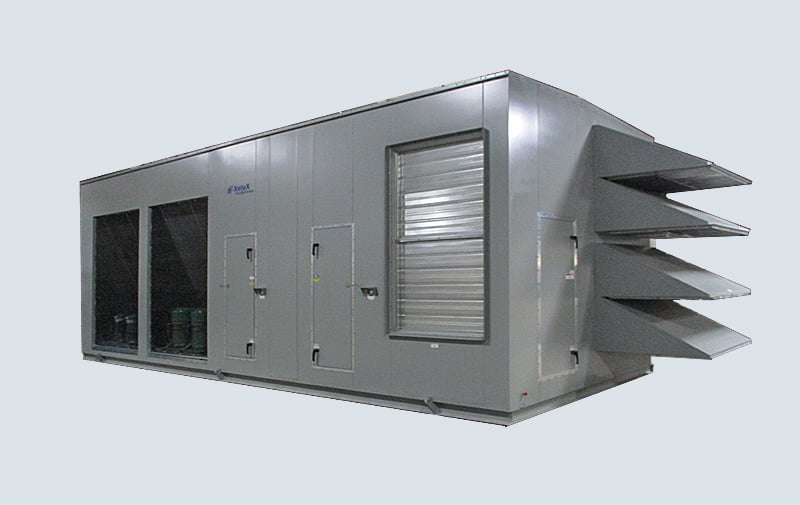 Casinos face the challenge of introducing large amounts of outside air while ensuring filtered and temperature-controlled environments to provide a welcoming and comfortable environment for patrons.
Conditioning the outside air is the most energy intensive portion of an HVAC system. To help reduce energy consumption, each unit was equipped with an AiRotor 3A energy recovery wheel which offers up to 72% energy recovery effectiveness.
Additionally, the energy wheel was specially coated with an acrylic polymer to reduce exhaust air contaminants from "sticking" to the face of wheel. This will ensure long-lasting wheel performance and continued unit energy savings.
Specifications
Model: AVR-3200-RT-CD-HG-HG-HI-AC
Height: 144"
Width: 142"
Length: 330"
Weight: 23,800 lbs
Supply CFM: 26,000
Return/Exh CFM: 27,000
Cool type: DX w/ ACCU
Cooling capacity: 90 Tons 2 circuits
Heating type: Indirect gas heat
Heating capacity: 800 MBH output 10:1 turndown
Energy Recovery: 3A Enthalpy Wheel
Unit Highlights
Outdoor unit with 18-gauge acrylic painted exterior and 20-gauge galvanized interior
2" Double wall injected foam panels with thermal break construction
4" MERV 8 OA filter and 2" MERV 8 RA filter
Two evaporator coils with galvanized casing and SS drain pan
Hot gas reheat
Dual indirect gas fired heaters (10:1 turndown)
3A AIRotor enthalpy energy recovery wheel
Supply Air—two fan array (direct drive)
Exhaust Air—two fan array (direct drive)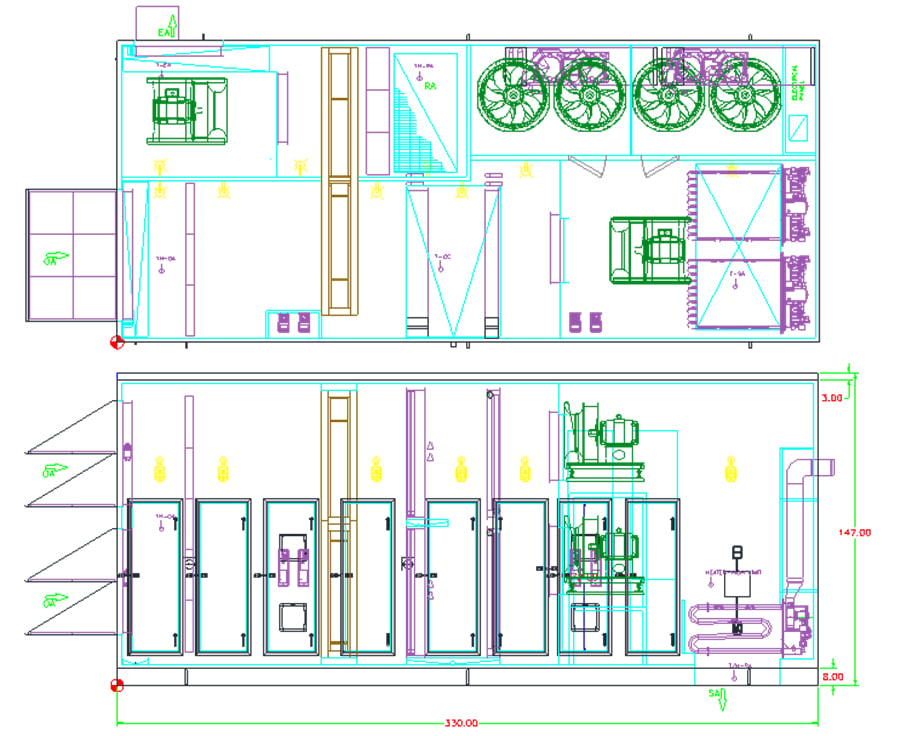 Contact XeteX today for your next Custom Air Handling project!