Custom Replacement ERUs for a school
This XeteX project features seven custom Energy Recovery Units as part of a retrofit replacement for a School as a CARES Act energy recovery ventilation upgrade.
XeteX overcame several unique project challenges:
Design an efficient unit with an upgrade to the filtration system
Increase heating capacity from the original design
Retrofit the new units to utilize the existing curbs and duct work
Accommodate a tight schedule for replacement during the school's winter break
With customizable sizing and configuration capabilities, XeteX design engineered direct replacement ERUs. The main feature was dual pass heat exchanger which allowed for a higher-than-normal sensible energy recovery effectiveness (70+%) and a unique duct configuration to accommodate existing locations.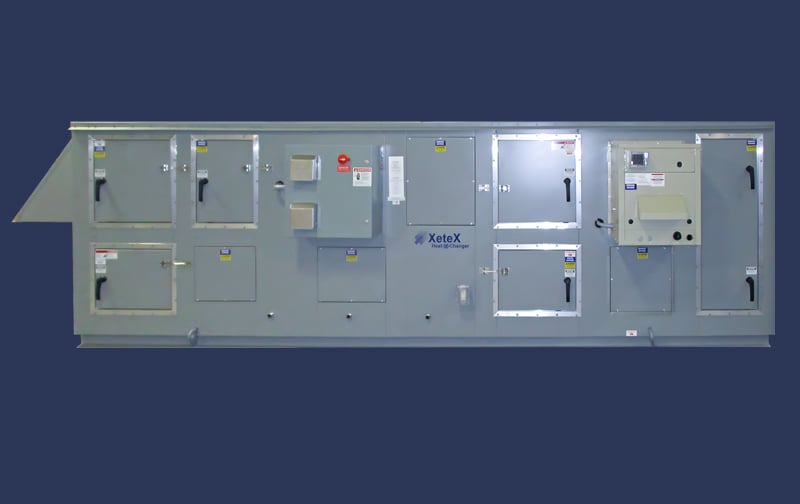 Specifications
Model: XHR 30-42XD-RT-BP-HI-FF
Height: 87"
Width: 53"
Length: 234"
Weight: 5,600 lbs
Supply CFM: 3,950
Heat Type: Ind. Fired Burner
Heat Capacity: 250 MBH
HX Efficiency: 73.2% (Sensible)

Unit Highlights
All units are 18-gauge painted acrylic exterior and 22-galvanized interior
2" mineral wool insulation (R-value 4.0/in)
2" MERV 8 pre-filter and 4" MERV 13 final filter

Each filter bank had a pressure switch included

Double Pass aluminum flat plate heat exchanger

Double pass exchangers for higher efficiencies (73%)
Vertical face and bypass modulating dampers for frost control and full economizer capabilities

409SS Indirect fired burner

5:1 turndown control
65-degree temperature rise

Supply and return airflow monitored by a piezo ring AFMS
Control devices provided and mounted by XeteX. Control signal provided by Others in field
Contact XeteX for your next air handling or ventilation system.