DOAS with Coated HX and Explosion Proof EA Motor
This XeteX project features a custom heat recovery ventilator for a waste water treatment plant located at one of the most exclusive lifestyle estates in the world. The facility repurposes treated water to make snow for the ski slopes and water the golf course greens.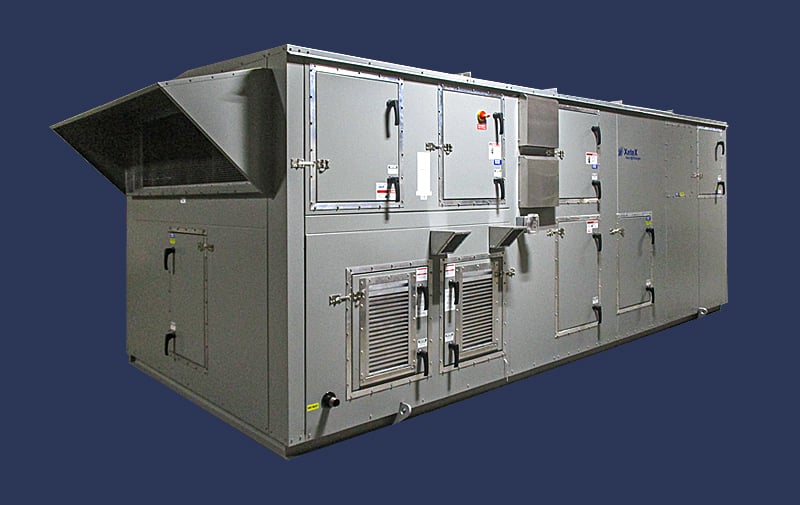 This custom DOAS features an aluminum, epoxy-coated flat plate heat exchanger that offers energy recovery as well as no cross contamination. Premium MERV filtration at the OA and RA improve indoor air quality.
The exhaust air fan includes an explosion-proof motor for safety and non-corrosive material has been selected for long life.
Specifications
Model: XHS-40(20)-72-RT-HI-BP
Height: 88 in
Width: 102 in
Length: 224 in
Weight: 9,100 lbs
Energy Recovery: Flat Plate Heat Exchanger
Effectiveness: 85% Winter / 62% Summer
Supply CFM: 8,000 CFM
Heating Equipment: Indirect Gas Fired Furnace
Heating Capacity: 1,033 MBH
Construction
Outdoor unit with double wall non-thermal break construction:

18ga galvanneal exterior casing with XeteX gray acrylic
22ga galvanized steel interior casing with 2" fiberglass insulation

Inner casing is 304 SS at the exhaust section
Components
A. 2" MERV 8 OA with galvanized rack
B. Epoxy-coated aluminum flat plate heat exchanger
C. The explosion-proof EA motor with 304 SS plenum and an aluminum fan impeller
D. 2" MERV 8 RA with SS rack
E. 409 SS indirect gas fired furnace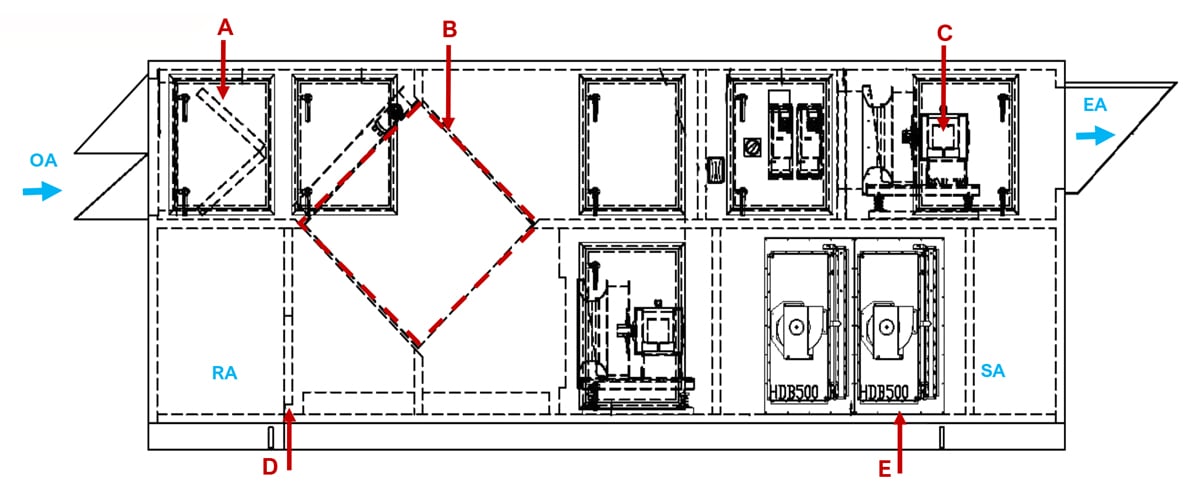 Contact

XeteX for your next Custom DOAS!