Dedicated Outdoor Air System with Energy Recovery Enthalpy Wheel
This Xetex featured project is an indoor Dedicated Outdoor Air System (DOAS) with an enthalpy energy recovery wheel designed specifically for a K-12 educational facility. This innovative system ensures optimal indoor air quality, energy efficiency, quiet operation, and cooling comfort to encourage a quality learning environment for students.
The DOAS is equipped with an 3A AIRotor Enthalpy Energy Recovery Wheel, which allows for efficient heat and moisture removal between the incoming and outgoing air streams. This process helps to reduce the load on the cooling and heating systems, resulting in significant energy savings.
The DOAS is equipped with an evaporator coil and a HW (Hot Water) coil, allowing for efficient heat transfer, precise temperature control and facilitates the exchange of heat and moisture between the incoming and outgoing air streams.
For cooling purposes, the system utilizes a remote DX (Direct Expansion) condensing unit with a cooling capacity of 70 tons.
Specifications
Model: AHR-2000-BP-CD-HW-FF-RC
Height: 138"
Width: 104"
Length: 176"
Weight: 15,100 lbs
Supply CFM: 19,505
Return/Exh CFM: 8,195
Cool type: DX w/ Remote CU
Cooling capacity: 70 Tons
Heating capacity: 670 MBH output
Construction
Indoor DOAS unit

2" double-wall construction:

18-gauge exterior and 20-gauge galvanized interior with

m

ineral wool insulation

Perforated liner in fan section for quiet operation
Components
Evaporator coil

HW coil

3A AIRotor Enthalpy Energy Recovery Wheel

Supply Air—2 fan array

Exhaust Air—2 fan array

Backdraft dampers

Enthalpy wheel bypass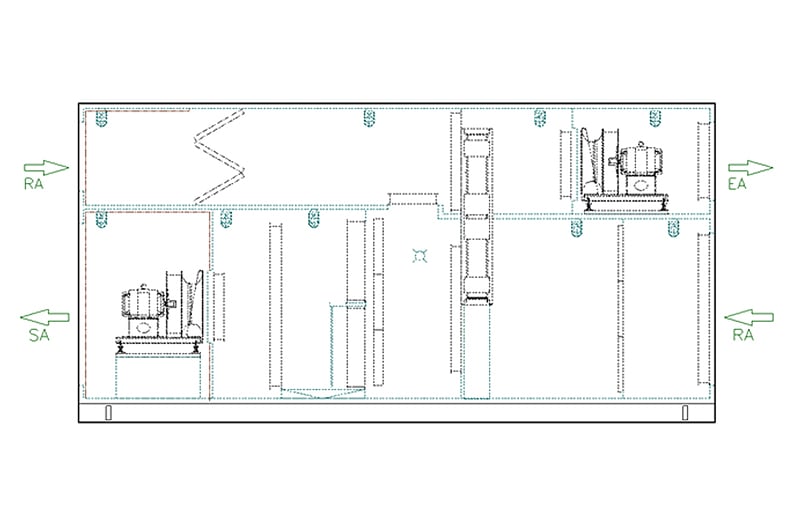 XeteX customized air handling solutions utilize innovative energy recovery technology to your specific application ensuring optimal performance, energy efficiency, climate control, and indoor air quality.
Contact XeteX today for your next Custom Air Handling project!