High Capacity Ventilation Dedicated Outdoor Air System
This featured XeteX project is one of eight high capacity ventilation Dedicated Outdoor Air System units with a flat plate heat exchanger designed for a casino to provide up to 30 air changes per hour.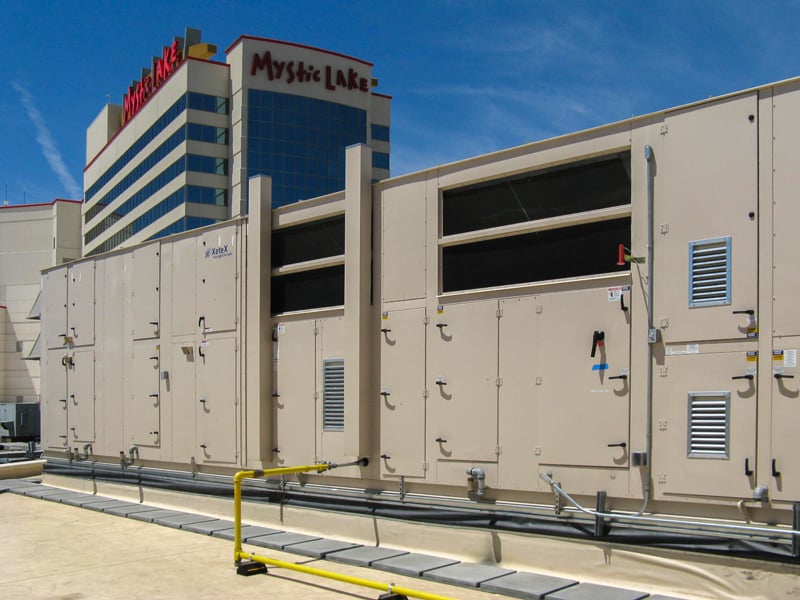 XeteX custom engineered and manufactured each unit in two sections to facilitate a seamless rooftop installation.
The packaged DX system and indirect gas-fired heater provides 30,000 cfm of comfortably conditioned supply air—even under the most extreme outdoor air conditions—and the flat plate heat exchanger drastically cuts the amount of energy consumed.
Performance Specification
Model: XHS–80–102–RT–BP–CD–HG–HI–SF–AC
Supply cfm: 30,000
Exhaust cfm: 30,000
Weight: 40,000 lbs
Energy Recovered: 2,026 MBH (Winter) 451 MBH (Summer)
Design Conditions: –20 °F / 99% RH (Winter) 92 °F / 46% RH (Summer)


Unit Features
An XLT Type H Epoxy-Coated Aluminum Flat Plate Exchanger operates at 71% effectiveness under Winter Design Conditions and at 69% effectiveness in Summer
The Double Wall cabinet features modular construction and has an 18 gauge Painted Galvannealed Steel Exterior, 22 gauge Galvanized Interior, and 2" thick Fiberglass Insulation. Frame is Welded Structural Steel and drain pans are all-welded stainless steel
Twin Air Foil Plenum Blowers with Premium Efficiency motors are supplied for each airstream. (Supply: 2 x 24" blowers with 2 x 30hp motors, Exhaust: 2 x 27" blowers with 2 x 15hp motors.) The blowers are mounted on common frames and have 2" Seismic isolators
A DX Coil provides 1932 MBH, or 161 tons of cooling capacity and a Hot Gas Reheat Coil
Eight indirect gas-fired heaters provide 1562 MBH heating capacity with a 32:1 turndown
An integral, R-410A, walk-in, air-cooled condensing section includes compressors with crank case heaters, condenser coils, valves, and 10 axial fans
Contact XeteX today for your next Custom Air Handling project!