Natatorium Air Handling Replacement Unit
This XeteX project features two large outdoor air handling replacement units for an indoor aquatic recreation center.
XeteX custom engineers and manufactures natatorium dehumidification air handling systems. Many factors go into natatorium design, such as delivering healthier, more comfortable environments for indoor pool occupants for climate comfort and indoor air quality; finding ways to minimize operational costs through the use of energy recovery technologies and selecting corrosion resistant materials for long-lasting performance, and design features that protect the building structure.
XeteX employs energy recovery ventilation using sensible flat plate heat exchanger technology. Incoming fresh air is pre-condition and is further heated or cooled to meet supply air requirements. This approach helps reduce operational costs when comparing with standard mechanical dehumidification pool systems.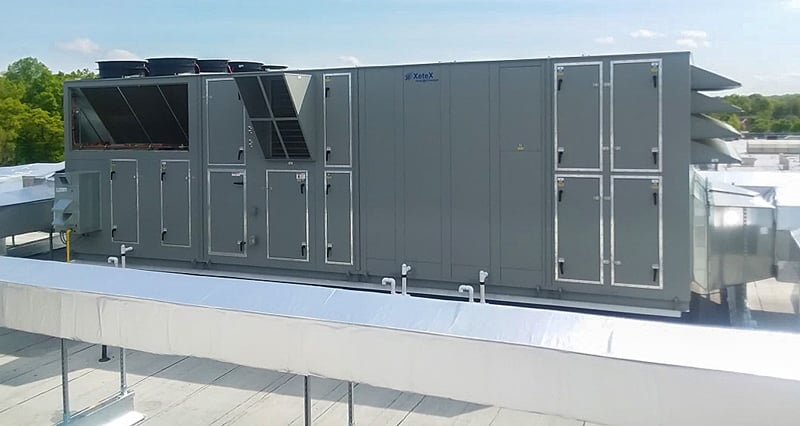 In addition to these factors, Xetex engineers worked closely with our local rep to design replacement units that retrofit the existing mechanical and structural requirements.
Unit Highlights
Outdoor units with 2" double wall thermal break casing insulated with injected foam

18-gauge galvanized exterior
16-gauge corrosion resistant aluminum interior

XLT epoxy coated aluminum flat plate heat exchanger to enhance longevity and resistance to corrosion
43 tons of air-cooled condensing with lead Digital Scroll compressors to produce
2200 MBH indirect fired gas heater made with 304 stainless steel
epoxy coated DX coil which plays a crucial role in the dehumidification process
Low leakage, aluminum dampers
2" MERV-8 outside filters and 2" aluminum mesh return air filters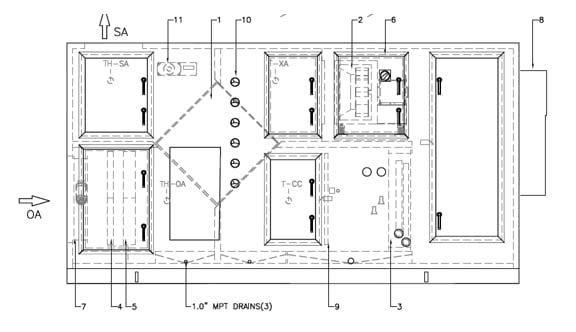 With these exceptional features and state-of-the-art technologies, the XeteX replacement units not only meet the existing structural requirements of the building but provide improved indoor air quality and energy efficiency. These units make a reliable and long-lasting solution for this natatorium environment and ensures the health and wellbeing of occupants, spectators, and the building structure.
Contact XeteX for your next natatorium air handling system.